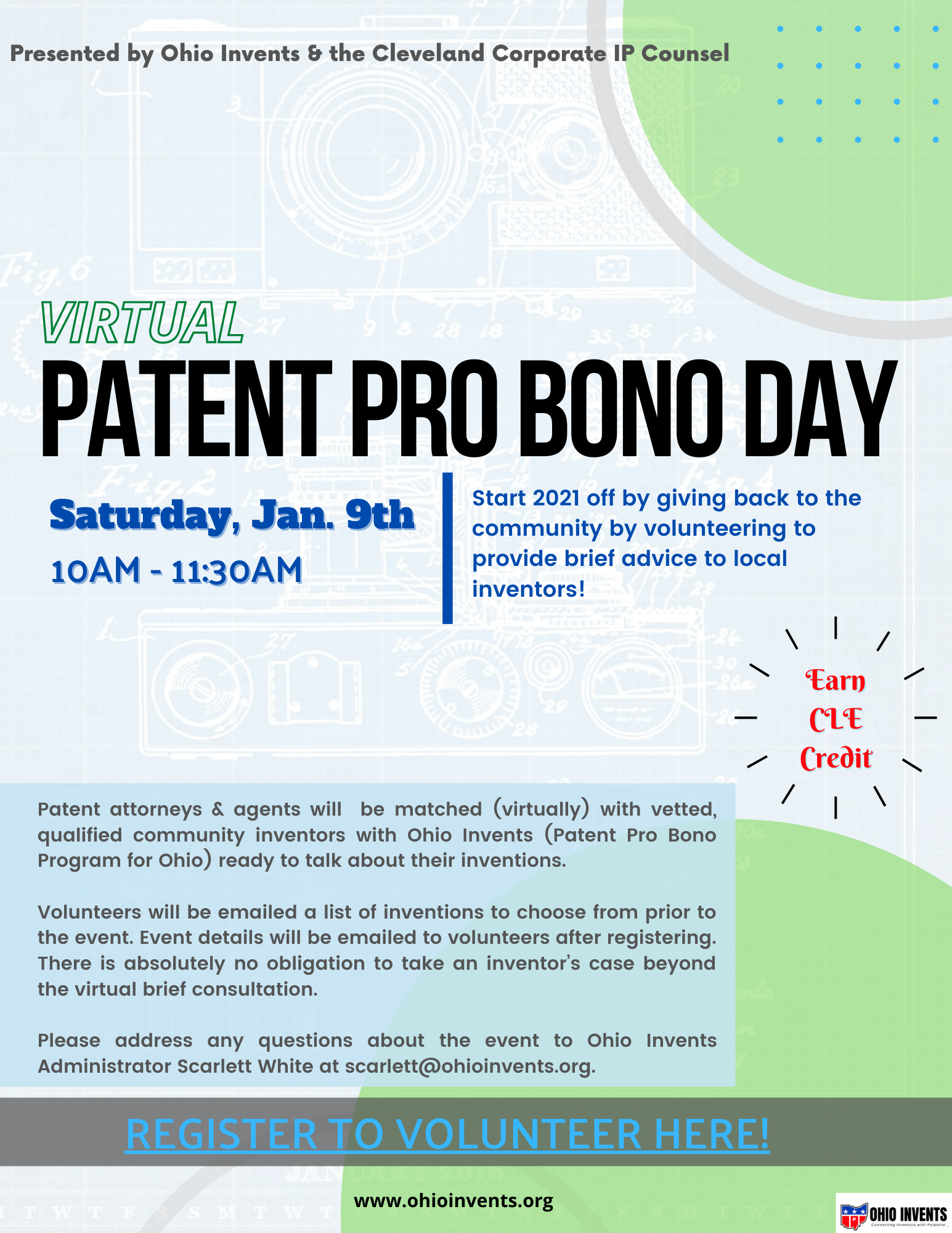 Please join us for the first Virtual Patent Pro Bono Day organized in partnership by Ohio Invents and the Cleveland Corporate IP Counsel.
What: Virtual Patent Pro Bono Day
Date: Saturday, January 9th, 2021
Time: 10AM-11:30AM
Where: Virtual Meeting Room (meeting link to be emailed to volunteers after completing registration)
You could change someone's life!  Attendees will meet with vetted, qualified applicants to Ohio Invents who are ready to talk about their inventions.  Engagement options range from simple consultation to full pro bono representation. Volunteers will be emailed a list of inventions to choose from prior to the event.*There is absolutely no obligation to take an inventor's case beyond the brief consultation, though we welcome you to consider that.
For more information about the event please email Ohio Invents Administrator Scarlett White at [email protected]. The Virtual Patent Pro Bono day is open to all patent attorneys and agents regardless of their registration status with Ohio Invents.
We look forward to seeing you there!
Agenda:
10AM      – Check-in and Presentation to Attendees
10:15AM – Attorney/Inventor Consultation Sessions
11:15AM – Closing Remarks
 Volunteer Highlights
CLE Credit
Participating volunteer attorneys may earn up to six (6) CLE credits in biennium. One (1) credit is awarded per every six (6) hours of pro bono service contributed and is collected by program staff throughout the year.
Volunteer, Firm & Corporation Recognition

Patent Pro Bono Achievement Certificate
The USPTO awards all registered volunteer patent attorneys or agents who have contributed at least 50 hours of pro bono service as well as their firms and corporations through one of the regional patent pro bono programs in a calendar year a Patent Pro Bono Achievement Certificate. Recipients may also choose to have their names listed on the USPTO's website for public recognition.  Recipients also receive a digital badge to include on your website or signature line.

Cleveland Intellectual Property Law Association ("CIPLA") Annual Ohio Invents Award Dinner
Ohio Invents partners with the USPTO and CIPLA, each year during CIPLA's last dinner meeting to recognize Ohio Invents' volunteers, as well as their respective firms and corporations, for their contributions to pro bono casework. You can read about last year's award dinner here.
Flexible Participation Options
Low Commitment (1-2 Hours) 

Patentability Reports

Brief Consultations (virtual)

Mid-level Commitment (5-10 hours)

Mentor a fellow junior volunteer attorney working on pro bono casework

High-Level Commitment (10-50 hours)

Full pro bono representation to prepare and prosecute patent applications

 
Malpractice Insurance
Ohio Invents provides malpractice insurance for qualifying attorney volunteers.
Financial Support
Ohio Invents is seeking funds to support its malpractice insurance provision which enables corporate attorneys to volunteer. If you, or your firm or corporation, would like to provide financial support for this initiative to raise $5,000, please email Scarlett White at [email protected].